Services

Maintenance and improvement of green spaces
Cleaning and conservation of recreational areas.
Preservation of eco-cultural routes.
Planting and maintenance of lawn.
Landscape gardening.

Forestry
Manual and mechanical clearings.
Thinning and pruning.
Vegetable waste management.

Forest Fire Prevention
Firebreaks and security strips.
Maintenance of forest trails and paths.
Maintenance of paths and verges
Cleaning and clearings.
Waste management.

Maintenance of private spaces
Enclosure of plots of land with green walls.
Land preparation, planting and maintenance.
Pruning.

Landscaping
Design.
Cleaning and land preparation.
Planting and maintenance of lawn.
Planting and maintenance of flowers, shrubs and trees.
Environmental awareness educational activities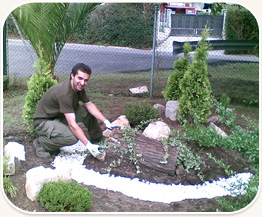 COMPRISES THE FOLLOWING ACTIVITIES
Development of plants information cards .
Implementation of maintenance and paths signposting techniques.
Didactic guided tours aimed at the citizenry and students.
Specific training on forestry, sylvan treatments, pest control and sylvan plant nursery.
Control of forest residues and composting.